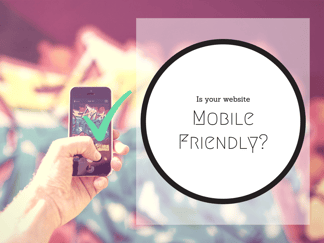 Did you hear? As of yesterday (April 21, 2015), your website's ranking on Google may have fallen, or improved, depending on one sole factor: is your website mobile-friendly? (Take the mobile-friendly test here).
The new mobile update was announced back in February of 2015, and executed just two months later, "Starting April 21, we will be expanding our use of mobile-friendliness as a ranking signal. This change will affect mobile searches in all languages worldwide and will have a significant impact in our search results" (Google Webmasters Blog).
Frankly, we are surprised that a site's mobile-friendliness wasn't already considered an official ranking factor when, "smartphones and tablets combined accounted for 60 percent of total digital media time in May 2014, up 10 percent from the previous year" (ClickZ). However, many companies have yet to adapt to consumer's behaviors, putting small companies (without the resources or knowledge) and large companies (with too many pages to convert) at risk the most, "something that could potentially affect over 40% of Fortune 500 websites, according to recent tests" (Tech Crunch).
In addition, Google will no longer display your website's URL in mobile search results. Instead, it will provide a visual interpretation of where the page lives in your site map. For example, a new description may look something like this: BeaconLive < Solutions < Webinars. The new display will make it easy for us to understand how to navigate a website and how to find the same page again. (Search Engine Watch)
If your website fails Google's mobile-friendly test, here is what you need to fix on your website: "Its text has to be readable without tapping and zooming, its tap targets need to be spaced out appropriately, and the page avoids unplayable content or horizontal scrolling" (Tech Crunch). We have been preparing our blog subscribers and readers for this new shift towards providing users with the ultimate user experience with a series of relevant posts you might find helpful:
If Google's algorithm update is not enough to scare you into fixing your website today, just remember, "the number of smartphone users worldwide will surpass 2 billion in 2016 [...] and by 2018, over one-third of consumers worldwide will use smartphones" (Tech Crunch). If you're not making yourself available to your audience where they want to find you, how will your business survive?
Make sure to subscribe to our newsletter to receive monthly updates with the latest best practices and marketing trends.