How can webinars help me?
Getting the biggest bang for your investment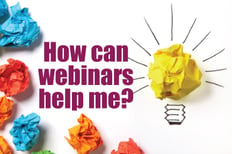 In business, whatever helps your clients can be of benefit to you; however, webinars offer a number of direct benefits to companies which help them stand out against competing marketing tactics. Often, marketers find themselves having to convince the c-suite team on doing a larger project, such as webinars, but with a larger project comes with a larger chunk out of the whole marketing budget. In this blog, we will discuss how getting the biggest bang for your investment in webinars.
---
Return on investment is a metric that is the lifeblood of successful marketers. Unless you happen to be the rare and lucky marketer who has more marketing budget than they can spend, you will need to prioritize your marketing expenses.
How do webinars fit into this priority?
At first glance, webinars might seem like a lot of work, but appearances can be deceiving. Webinars are a surprisingly simple and versatile solution for reaching out to your clients, and the advantages of this technology are worth exploring. In an era of declining travel budgets, the chance that you'll get all of your clients together for a conference or a training session in person is declining. Webinars bridge this gap, allowing you to connect with your clients in their homes and offices.
The convenience of webinars isn't the full story though, there are three factors that address how webinars provide a superior ROI:
Your colleagues find them effective: Research by the Content Marketing Institute shows that 61% of B2B Marketers believe webinars to be an effective way to deliver their content. Why would you create something if it isn't effective at delivering your message?


Your audiences prefer them: DigitalSherpa found that 80% of online visitors will watch a video, while only 20% will completely read a piece of written content. This means that you have a greater share of attention for your videos (and video webinars) than you do for your written content.



They are the gift that keeps on giving: Websites are hungry creatures, they require a constant flow of content. Webinars can be repurposed for a vast variety of other purposes. In fact, webinars can be used to create 16 other pieces of content. We'll examine repurposing webinar content further in the advanced sections of this guide.
interested in learning more about how webinars can fit into your marketing plan? Download our free ebook, The Savvy Marketers Guide to Webinars in 2015 to learn more.