Going Beyond Selling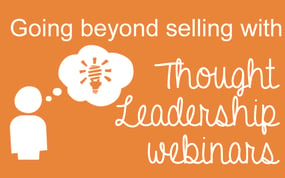 Obviously, the sale of your product or service is the goal of any marketer, but the path you use to get to that goal can widely vary.


A sale can also take many forms. All too often, businesses focus on winning over new customers, but invest little effort in the retention of existing customers. The reality is that customer retention should be just as much of a marketing goal as customer acquisition. 70% of companies say it's cheaper to retain a customer than acquire one. This means whether it is different routes to achieving a sale, or a new way to approach retention, webinars are a powerful marketing tactic that can be used for far more than just making a simple sale.

Thought leadership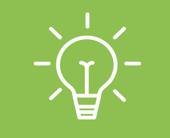 Thought leadership is always a challenging concept for companies. On the surface, it can be very exciting to be a thought leader in your field, but it is not always easy to draw a direct line from industry expert to revenue or some other target goal number.


Any initiative in thought leadership should be undertaken with clear goals in mind. Webinars can be a lot of fun for marketers because they help with both customer acquisition and client retention.


Retention with webinars is pretty straightforward. Just as being on the cutting edge is exciting for marketing staff, it can also be very engaging for your clients. 65% of current customers that leave to do business with another company do so because of indifference. It's incredibly difficult to be indifferent when you're engaged. Being the go-to source for information and discussion can be hard work, but it helps you keep up-to-date and helps your customers feel involved and proud to be doing business with you.
Thought Leadership Webinars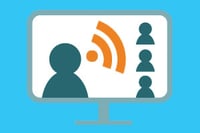 These webinars sometimes seem like a luxury for the average marketer. While presenting your company as a thought leader in the field is certainly a good goal, it often falls behind other marketing goals that are easier to achieve and measure.
While it might not seem like a marketing tool at first glance, there are three compelling reasons to consider thought leadership for your marketing plan.
Search engine optimization for your company: Webinars are not just a one-time occurrence. You can videotape your webinar and post it online, which puts it out there for search engines. Video can be an excellent tool for promoting social sharing, which benefits search engine rankings.


Content sharing ratios: The art of self-promotion on social media is not a one-way street. In order to build connections with people, you need to share content that isn't related to marketing your products. By offering non-marketing content, you help secure yourself as someone contributing to the community that people want to hear from. This type of thought leadership builds a reputation that is priceless when it comes to business growth.


Lead generation:

As the old saying goes, you catch more flies with honey than you do with vinegar. Thought leadership webinars are tempting treats that entice participation from those who might not attend your regular webinars or exist on your current mailing lists. Immediate revenue from these webinars might be slim, but you create an investment which pays off in the longer-term - you will make more money by providing better value to your customers.
Interested in learning more marketing tactics to go beyond selling? Check out our Savvy Marketers Guide to Webinars to learn more.