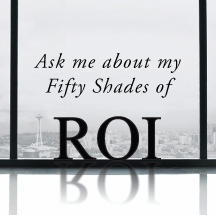 You're probably thinking, how can we possibly relate the wildly popular book and a complex business subject like Return on Investment? Well, here we go: here are 50 Shades of ROI terms and tips that may or may not be relevant when calculating your marketing return *
Revenue enhancement. Increasing revenue is the bottom line, so if you can repurpose your content in several ways, your initial cost can be distributed throughout your content strategy.


Margin Protection. Its smart to create content where the method can be easily be replicated when successful.

Why repeat a process that doesn't work?!



Cost Allocation.

Be smart about where you put your marketing department's time, because time equals money. Its important to know when to hire professionals to take work off your desk.


Cost Avoidance.

Ignore how much it costs, just create as much content as possible during Q1, and hope you have a great SEO team on staff to get it in front of the faces of your prospects throughout the year.

(We don't recommend this)


Cost Reduction.

Use really cheap vendors and hope for the best outcome. This will save you lots of money. (We don't recommend this, read more about picking the best vendors)


Capitol Cost Avoidance. Consider this, if you create a really great piece of content now, you will can still be reaping the benefits during your next fiscal year.

Now, convince your CMO to take the cost of creating the content off of next year's (increased) budget. Good luck!


Calculation of ROI. Using marketing automation, evaluate the cost of each 'touch' or piece of content that was required to turn a prospect into a customer. Turn this into a dollar amount, and you have created a cost per customer.


Technology infrastructure. There are direct costs associated with technology and services in which you invest (such as marketing automation and email providers), and there will also be costs in terms of impact on other technology already in place. Remember this when you are planning your content budget for the year.


Business processes. Keep in mind the cost of training new team members and keeping existing employees up-to-date on the latest and greatest marketing ideas (like Inbound).


Organizational environment. Other costs that will be linked to the organization, or department.

Try to make friends with the billing department and get them to shuffle the costs to another department.

(Okay, we're not serious.)


External relationships. The first rule of marketing is admitting that you can be wrong. Consider hiring a professional marketing consultant to guide you through your next project.


ROI effectiveness. Ask this question before you begin, how much bang for my buck can I get?


ROI determining factor.

Next, a

sk this question before you begin, Will this content benefit the whole company, and if so, should you justify the investment in the project?


ROI 101. Can you afford to create the content in the first place?



ROI 201.

Can you afford not to create the content in the long run?



Total return.

Measures how well the investment has done over any specified period of time in raw dollar figures.



Return components.

When you're figuring the total return, you may want to include any dividends were received (for example, did you turn your CMO into an industry thought-leader?

What's the value in that?).


Percentage return.

The percentage of return visitors you find after delivering a flawless and professional piece of content.



Average annual return.

What is the average number of leads you have received in the last 5 years? Now determine how this year's content strategy will help you increase that number.


Return analysis.

Analyzing the final numbers, then determining if and how to repurpose the content to increase your Return on Investment.



Return of social media.

Some say it cannot be done.

What do you think? Tweet us your thoughts, @beaconlive


ROI of user-experience. The cost of an excellent user-experience is worth more than the cost of a poor user experience, so don't skimp on providing quality content.


Return management.

Is it worth your time to learn how to manage a project, or should you just hire a professional and experienced team to manage all of the details, ensuring ultimate success?


Investment types.

Determining if you want to work with a vendor that sells packaged deals with elements you do not need, or a vendor that lets you design your own package ala carte.


Investment return.

The immediate return on the initial investment, prior to repurposing the content.


Historical returns. How much did you make last time you delivered this type of content?



Benchmarks.

Noting the analytics embedded within the project, and making notes on how you can do it better next time.



ROI formula.

All costs, plus estimated time = investment, divided by all ultimate sales/conversions.


Return calculation.

Numbers numbers numbers. You didn't get into marketing for the numbers.


Calculating benefits. Using an evaluation tool to ask webinar attendees what they thought about the virtual event, or to rank the content or speaker.

This will help you to determine if you are delivering a benefit to the customer.


Interest. Is your content interesting? No?

Make it interesting!


Capital gains. The number of new contacts that you will receive after publishing the new piece of content.


Investment strategies. The costs associated with your content strategy.



Allocation of investments.

Dividing the content strategy, then allocating a specific budget to each marketing tactic.


Diversification. Ensuring that you are reaching your audience through multiple marketing methods, including print, live events, and social media.



Capitol appreciation.

The amount of appreciation you will receive for your coworkers and the sales team after you bring in new leads.


Capital Depreciation. Finding out that the leads you brought in were not qualified.



Risk.

Taking a chance by doing something that your company hasn't done before.



Return on equity.

What type of lead-action are you receiving on your existing content?


Return on event. A term used in event marketing, compared to rate of return (ROR), also known as return on investment, which is the ratio of money gained or lost on an investment.


Rate of return. How soon you anticipate reaching a goal of leads following a marketing campaign being delivered.


Rate of Profit. Ratio of money gained or lost (whether realized or unrealized) on an investment relative to the amount of money invested


Understanding the New ROI of Marketing.

A great article posted by Forbes.


4 keys to Calculating return on investment for Content Marketers.

This blog has a picture of Walter White doing chemistry.


Content is lasting and perminent. Fundamental way to clearly measure the value of a content marketing effort, according to CMI.


First stage of calculating the ROI. Content serves two purposes, your customers and search engines. Its not really meant to be measured in a monetary state.


Content ROI.

Content gains trust, trust gains customers.

Therefore, you need to create content to get customers.


ROI time line. 75% of companies using marketing automation see ROI within 12 mo, 44% within 6 months, according to Groove Digital Marketing.


Positive ROI. 82% of marketers who blog see positive ROI for their inbound marketing, where as 60% of marketers report a positive ROI from email marketing.


Slow Return. Content marketing is different from other forms of online marketing in that it does not always deliver ROI quickly. It may take weeks or months for a piece of content to be discovered by people and the search engines.
*DISCLAIMER: These titles are obviously derived from actual terms with real definitions. The definitions supplied here are for entertainment and thought provoking purposes only.
Interested in learning how to increase the ROI of a webinar? Check out this whitepaper, Building an OnDemand Strategy.