As the calendar year changes, inevitably, marketing trends and strategies need to change with it to stay relevant. In 2015, mobile devices will become even more important as wearable technology, tablets and smartphones continue to take over the digital world. Within content development, Law firms will need to become more personable to keep the interest of their clients and prospects. This blog will discuss the Top 4 Legal Marketing Trends in 2015, just in time for your marketing planning.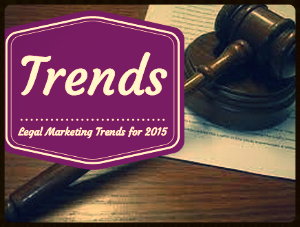 1. Mobile-Optimization
In 2015, expect to tailor your marketing content for mobile outlets. Gone are the days of creating content for computers and hoping they convert onto devices. With increasing popularity of smart watches and tablets, mobile devices are going to continue to grow as the top sources of viewing content. According to eMarketer, 2015 will be the first time that mobile searches will exceed desktop searches. This means creating content that is short and easy to read, or creating videos and ensuring that your OnDemand videos and webinars are accessible from mobile devices is increasingly important. In fact, according to Mashable, in 2015, video will account for 69% of mobile data traffic, so it's easy to suggest that your webinar attendees will be accessing your virtual event from a mobile device in the near future, if they are not already. So, when building your webinar content plan, work with a vendor that provides mobile accessibility.
2. Make Your Law Firm Personable
Companies can no longer get away with dry, automated marketing. Your clients want their interactions with law firms to be professional but personal. Keep this in mind when you create videos, webinars and photos to show that behind the corporate logo, there are real people, not automated robots! A great thing about webinars is their engagement ability, allowing you to interact with the audience. Webinars allow you to give clients more information on your services, keeping them up-to-date and knowledgeable of current trends and changes in laws. These little interactions will help humanize your law firm and make clients feel more comfortable with your services.
3. Social Media Marketing
With Facebook now limiting overly promotional posts, your social media strategy will need to be adjusted accordingly. As the traffic to your Facebook page goes down because of this change, you will need to draw that traffic back, by spending a little money on social media promotions. These ads will allow you to promote your business, raise your viewership and increase traffic to your site. For smaller firms who may not be able to include social media ads into their budget, Twitter is currently in beta with an ad platform that is paid for by how the user interacts with your company. Webpage clicks, app downloads, and emails will trigger different costs. Social media advertising is a great way to recruit new clients, or to maintain brand awareness of your firm.
4. Creating More Content
Once again, in 2015, content will be king throughout nearly every industry marketing their service to customers. In 2015, people want case studies, research-intensive content, and video content. Delivering webinars are a great place to start with content because they are easily viewable on any device and create a great opportunity to tell your company's story. Further, larger pieces of content (such as webinars) are easily repurposable. You can create whitepapers, blogs, and from the content and results of a webinar.
According to Interconnected World, 61% of people research a service online, of which 44% start their research with a search engine. This means creating content that is useful for your clients and prospects during their search, both online and within social media.

Now that you know which legal marketing trends you need to be a part of for next year, download our free whitepaper on the "The State of Legal Webinar Marketing"!