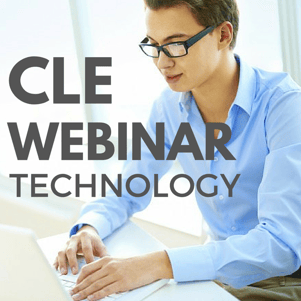 Attorneys are busy – there's no questioning that. The educational requirements and years of experience needed to thrive in the legal industry are extensive. However, a demanding career path and a hectic work schedule doesn't exempt them from being part of the group of professionals who must complete continuing education courses to keep the right to practice year after year. To help, below are some ways CLE providers can make continuing education courses more lively and memorable.
Attorneys have plenty of choices and sources to accomplish the completion of their mandatory CLE credits, so its important for providers to acknowledge and explain the benefits of their program over others. One way to do this is by focusing on their technology's capabilities. In the legal realm, bar associations and law firms can benefit from creating OnDemand libraries that learn from end-users' viewing habits and then make smart recommendations on other webinars and blogs that might be of interest.



According to The Content Council, 61% of consumers say they feel better about a company that delivers

custom content, and are more likely to buy from that company. No matter what type of business, content should reflect the target audience's preferences and be optimized based upon what people tend to want.


Other important features and functions CLE providers should consider are the use of interactive content, such as apps, assessments, calculators, configurators, and quizzes – which generate conversions moderately or very well 70% of the time (Ion Interactive). Taking a quiz and then being driven to another piece of content that seems like a relevant and natural next step is an effective tactic, especially since it'll feel so organic.


Lastly, the best tools are robust and dynamic, yet intuitive enough to control. For example, BeaconLive's

SmartCatalog;

it's capable of recognizing behavior, allows for social media integration, and takes the concept of catalog to the next level – effortlessly combining everything you need from your CLE administrative dashboard to engage your audience.

In our free white paper

Why Lawyers Can't Deny Content Marketing Stats, find out more about how you can help

legal professionals feel good about adopting some of these influential content marketing techniques!