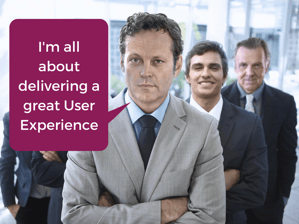 Consumer behavior and people's purchasing decisions have long been at the center of market research, for both marketers and psychologists alike.
Understanding what motivates people and influences their actions is essential to any business, product or service that relies on human engagement, including law firms; the collection of all those fundamental concepts (motivation, influence, etc.) is known as "User Experience" and without it your law firm is limiting its growth potential.
This post will focus on how taking new legal marketing trends and your client's needs into consideration can help you create a law firm environment that is approachable and helpful (eventually turning visitors into customers).
User Experience Optimization through Content: Most marketers know that "content is king", but how can UX help your blog content turn readers into clients? Through content optimization. Content optimization means combining promotional and informational content together to offer readers a benefit (helpful content) while steering their interest towards your services. For example, you can ask one of the attorneys at your law firm to write an entry for your blog summarizing a recent case, providing advice and guidance on how someone else can achieve similar success. Someone looking for representation for a similar situation will find the post valuable and possibly seek out the attorney for their experience.
Highlight achievements in a visible place: When prospects visit your company site or blog, they're often looking for case results, testimonials, press coverage, and lawyer bios. The faster they can find this information the more time they will spend on your website (which is good for SEO) -and the more likely they are to come back!
Video is the secret ingredient: A

study by

DigitalSherpa found that websites with video content are 50 times more likely to appear on the first page of search engine results. In addition, people respond better to visuals than text and, "

When a law firm website displays a video or infographic that is well-crafted and houses useful information, the law firm positions itself as a thought-leader,

and stands to gain a huge traffic increase" (Bruce Clay).
Providing a great user experience has become the driving force behind everything we create: explore two areas in which legal webinar marketing is utilized to learn why and how webinars are used as a tool to market to lawyers with our guide, "The State of Legal Webinar Marketing".