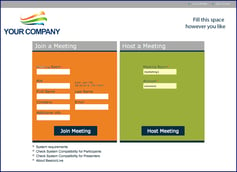 At BeaconLive, we like to boast that when you partner with us, you will be delivering a professionally executed virtual event for your company, not ours. When done correctly, your customers and attendees wont even need to know that you're working with BeaconLive, because your branding is present throughout each phase of the event.

Creating branded login pages to match your website allows your customers to immediately recognize your company, and begin to establish a relationship with your organization and thought-leaders. When you work with a BeaconLive Account manager, we will ensure that your login page includes your logos, colors and contact information.
Branded login pages should include:
Your company logo

Contact information

Company color scheme

Contact fields, such as name, email, company

Systems capability check for speakers and attendees

A clean and simple design with only one call to action (login here) is the best practice for designing your event login pages.
The next step.
Recently, we have seen an increase of groups of attendees participating during the webinar. While this lays the groundwork for a conversation with coworkers following the event, it raises concerns for the participants wanting to earn continuing education credit for their involvement. BeaconLive has recently created a feature that allows for multiple participants to login into the webroom simultaneously to earn their CE credit. Learn more about how to Track Several Attendees Through One Registration
Learn more about crafting a webinar experience in our whitepaper, The Savvy Marketers Guide to Webinars in 2015.