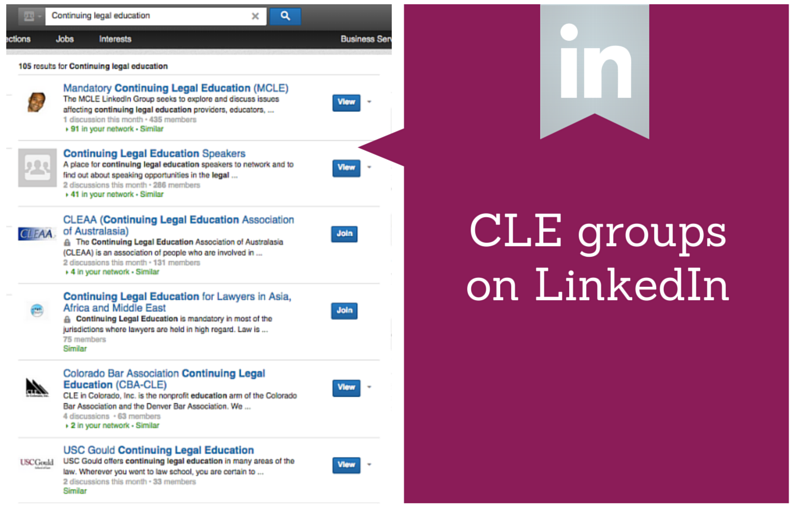 The Continuing Legal Education sector is vibrant on LinkedIn, and by joining one or several CLE groups you can significantly boost your networking efforts on the site. This is much easier said than done, right? Well, not if you utilize the list of CLE groups on LinkedIn we recommend below. Happy Networking!
Find or join other speakers
If you're a professional CLE speaker looking to collaborate with other presenters, the LinkedIn groups below are great resources for finding new ideas and receiving feedback. And if you're in need of a speaker for your CLE program you may also use the following groups to find notable webinar speakers.
Continuing Legal Education Speakers – This group is a place for CLE speakers to network and find presenting opportunities in the legal realm. Its 286 active members can provide you with feedback on any new programs you want to deliver.

CPE &CLE Speakers & Authors - This group was formed to enable professional CPE & CLE speakers and authors to privately share issues of concern including travel, technology, content, dress, formats, styles and all other aspects of presenting professional education seminars.

Professional Speakers, Seminar Leaders, Sales Professionals, and Business Presenters -

The largest group on LinkedIn for Speakers - founded by professional speaker Philip Calvert. Network, Connect and Learn the art and business of speaking. Whether you give the occasional presentation as part of your work, or make your living as a full time professional speaker - this group has something for you.
Find local bar associations
Bar Associations are the easiest way to connect with individuals in your jurisdiction. Bar Associations vary from state to state and can be organized by practice, county, and even gender. Here are some examples of a few association groups in Massachusetts on LinkedIn:
Boston Bar Association -

The Boston Bar Association is dedicated to professional excellence, facilitating access to justice and providing lawyers with opportunities to serve the community. You have to request membership to join their LinkedIn group but with a large network of 2, 249 members it is worth considering.



The Women's Bar Association of Massachusetts - (Private group)

The Women's Bar Association of Massachusetts (WBA) is where women lawyers in Massachusetts come together to build important personal and professional relationships. When you join the WBA you can expect leadership opportunities, rewarding work on our committees, a networking forum for business development and more.

Federal Bar Association, Massachusetts Chapter - T

he Massachusetts Chapter consists of an Eastern and Western Division. They host discussion series with members of the judiciary, sponsor educational programs, and support pro bono initiatives in the Commonwealth.
Other Legal Groups
Find more networking strategies here: