Marketing is a battle of perceptions more so than a battle of products or services. In order to win, you have to become the leader in a category, and to do this, you need to launch a new category in which you can be first. Leading firms are typically the ones that reside in the minds of prospects. So, what is it that gets prospects through the door? Branding and building personal relationships. Then, it's good service that keeps them from leaving.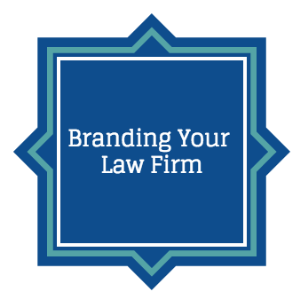 Successful brands capture the essence of a company and connect with the hearts and minds of current and prospective clients. They're able to evoke emotion and resonate in a significant way. Furthermore, strong brands position themselves carefully and make sure they're differentiated. 80% of consumers say "authenticity of content" is the most influential factor in their decision to become a follower of a brand (Pardot). To build a brand, you have to stand for something in people's collective mind.
So, what's the chief purpose of branding? It all comes down to a brand's power to influence purchasing behavior of one firm over another. Companies across all industries should brand their materials as much as they can. For instance, a full service virtual events platform should be using company branding on webinar registration pages, confirmation and reminder emails, and adding the logo in the web room.
Like most industries, law firms use promotion to gain new customers, to retain current ones, and to enhance the value of client accounts through the up-sell and cross-sell of additional services. In the legal marketing realm, direct sales efforts are being augmented by advertising, public relations, direct mail, and Internet selling. In addition, a number of firms are experimenting with dedicated, non-lawyer sales forces. These tactics are used to increase new business volume and the productivity of direct sales efforts. Since 1992 the number of law firms has increased an average of 1.7% each year versus a growth rate of 1.4% across all industries (U.S. Census Bureau). Growth in legal output value and in profits is estimated at 7.2% and 9.7% (Bureau of Economic Analysis) per year respectively.
Branding is extremely important in helping law firms make the short list of pitch participants and in growing existing client accounts. However, few firms actually practice branding. The delimitation – the necessary exclusion of practice areas, geographic influence, or shortened lists of prospects – is a challenge that few firms care to overcome. Considering that, on average, only 3%-10% of your prospect base is even aware of your existence (Interact Marketing), a branding effort that doubles that and then helps insure continued account success may very well be worth some consideration.
Determine if branding your law firm is necessary by asking yourself:
Can I succinctly describe my brand without resorting to the words "service," "attention to detail," or "client-oriented"?
Is my firm making the short lists? Am I on the radar?
Can clients or prospects clearly differentiate between my firm and another of similar size, tier, or region?
Am I losing market share? Is there growth in my areas of law?
Brand your law firm if it makes sense in terms of your goals, your stance, and your growth opportunities. Now that you better understand how to effectively brand and how branding can work in the legal realm, there's no doubt that you can resonate uniquely in the minds of your prospects. According to a Pardot survey, 67% of people are more likely to consider buying a brand's solution if the content they received was both authentic and helpful, so keep your material fresh. Find your niche and conquer it mightily. Lawyers know how that's done.
Understanding how to brand your firm and being able to get your prospects in through the door is just the beginning. Now you have to keep them happy DURING the webinar! Here are 4 strategies to create that memorable webinar!