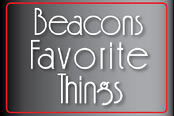 Every year Oprah compiles a list of the latest and greatest gifts to give, or things that are just plain awesome. So, taking her queue, we decided to create a list of Beacon's favorite things.
Tech Toys
GoPro Cameras. What's cooler than a camera you can attach to your bike helmet, or capturing a beautiful image around you while you're skydiving? And the word is, these cameras are indestructible. So, lets say you're a CEO of a company with multiple locations or virtual employees. Why not use your GoPro to film your 'state of the union' address or give a tour of your company's facilities (then webcast the recording to your employees)?
iPad mini. Obviously an Apple product has to make the list. And while we're all vying for the new iPhone 6+, we're finding the iPad mini to be more suitable for our day to day business. Consider all the time you spend waiting in line for coffee or for coworkers to show up to a meeting. The iPad mini is more convenient to bring around and catch up on the latest news or check emails than your laptop. Bonus, while waiting around for your car to get serviced or waiting to board a plane, you can log into web-rooms and watch webinars - on the go.
Books
Start With Why, by Simon Sinek. To put it simply, this book is amazing. It inspires people to do inspiring things. It makes you think about how your marketing, your product or service, influence your prospects. The Golden Circle seems so obvious, yet very few companies are doing this right. Simon Sinek (our marketing crush) beautifully provides examples throughout history when describing how to write so people care. This all originated from a Ted Talk. Check it out here
Outliers, by Malcom Gladwell. This is a story about extremely successful people, a story that focuses on intelligence and ambition and how they got there. In this book, Gladwell argues that the true story of success is very different than we think. Check out this interesting book to learn about the real reason Bill Gates is who he is today.
Food

Cookie cakes. We're obsessed with these at Beacon. Whenever someone in the office has a birthday, we get a cookie cake to celebrate.
Smarties. The BeaconLive Marketing office is where the Smarties are. No really, we have the value sized bag of Smarties candy sitting next to the printer. Its our way to lure our coworkers in to talk to us. Plus, we're obsessed. We reward ourselves for each piece of content delivered with a roll.
Home/Office
Yogibo. We yogibo, do you? One day a couple months ago, our fearless leader, President & CEO John Duplin came into the office carrying three giant beanbag chairs. But these weren't the ordinary beanbag chairs of our youth, but ultra comfy, moldable cushions. We've each found ourselves lounging with our laptops on the Yogibo every now and then. You should try it.
Chalkboard paint and pens.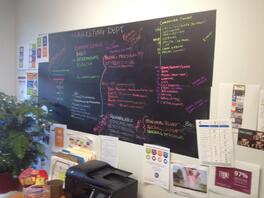 When we moved offices this summer, the Marketing department decided to get a little creative with our surrounding. We painted one wall with gold stripes and added chalkboard paint paper to the opposite wall. We've gone a little nuts with the colorful chalkboard pens ever since.
Education
CCO Magazine. The Chief Content Officer Magazine is the monthly handbook for inbound content creaters. Whether you're looking for stats, tweetable resources, or case studies, this magazine is filled with interesting and useful resources. If you're in Marketing, we recommend you subscribe, right away!
Productivity
Pocket. This is an awesome free App for your computer and mobile devices that allows you to save articles that you see on the web, so you can read them when you have more time. Once you save the article to your Pocket, it becomes accessible while you're offline as well. Much like Pinterest, its a great way to organize all your lists.
So, now that you've seen Beacon's favorite things, what would you add to the list??