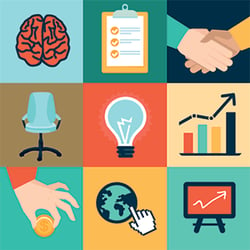 Most associations today offer a number of benefits to joining their exclusive organization and network, such as admittance to a number of association meetings and conferences a year. These events are created to help their members learn about the most current industry updates and news. However, as technology continues to make it easier and more affordable for people to fulfill their educational and networking needs closer to home, associations have to find other ways to make their membership more attractive and competitive.
For that reason, and many more, associations offer other year-round benefits as incentives for signing up. For example, many associations offer their members access to a library of information through white papers, ebooks, and webinars to make it possible for their members to upgrade their skills at a pace that fits their schedule best. However, another approach associations can make to recruit new members is make some of that content (such as whitepapers and webinars) available to non-members as well. The reason being that it allows non-members the ability to preview and try out your resources before committing to a full membership, which will help them feel safer about joining.
Another way Associations can maximize their appeal and create a bigger buzz around their membership is by creating a webinar series about a future event, such as an annual conference, to garner interest from non-members and to get current members excited about the upcoming event. One approach you can take is have all your conference speakers present and deliver one webinar topic that covers a theme relevant to the session they will be speaking about at the conference to help people decide which sessions they should definitely attend and which ones they can do without.
Lastly, because not all of your members have the time or budget to attend every meeting or conference your organization delivers, it is very important to still be able to provide all of your members with equal access to your content --whether they were present or not. The best way to do this is by capturing and streaming your live presentations via a webcast. Members that were unable to attend will see this as another reason why they should continue renewing their membership to your organization year after year, and members that were able to attend can feel free to go to any session they wish because any conflicting presentations can be viewed later online. However, present members will always have a benefit that non-attending members won't: networking.
Learn how BeaconLive can help add more value to your association's membership and maximize your association benefits through our webcasting services.