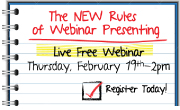 Starting this month, we are starting an Ask the Webinar Expert series where we will interview professionals with an extensive background in delivering virtual events. These experts will come from a variety of industries, and with an array of thoughts and ideas to share with everyone from webinar novices' to those more experienced with webinar delivery.

Webinar Expert: Ruwaida Vakil
Ruwaida is a freelance medical writer, communications specialist, and owner of ProMed Write, as well as the current secretary for the Delaware Valley Chapter of the American Medical Writers Association. Vakil is also on the webinar committee and journal committee for AMWA national, and specializes in CME needs analyses, educational pieces for health care professionals, sales training pieces, online articles, direct to consumer publications, slide presentations, and webinars.
In 2014, Ruwaida guided over 200 attendees (and growing) in exploring the available technologies of virtual event delivery in the webinar, How to Design, Develop, and Execute a Successful Webinar, (watch it NOW OnDemand), and will be delivering another virtual event The New Rules of Webinar Presenting for 2015 (reserve your seat now!)
How should a business best take advantage of webinars for lead generation?
Ruwaida Vakil: The best way a business can use webinars for lead generation is to use the platform to deliver a presentation that will establish the business as an expert in a particular topic. I personally feel that you should not use a webinar as a sales presentation. It is an educational tool. Once your audience trusts that you are an expert in specific topics they will approach you for your services.
How should a business take advantage of webinar technology for a content marketing strategy?
RV: I think webinars should be considered as part of an overall marketing strategy. The use of social media and polls can be beneficial for marketing your business during a webinar. Especially if you create unique Twitter hashtags that are advertised to attendees.
Where do you see webinars in 5 years?
RV: I think in the next 5 years webinars will be an integral part of content marketing for all businesses. In some cases webinars have replaced the need for in-person presentations. I feel the webinars of the future will be more interactive largely with use of social media before, during, and after the webinar.
What are the most important factors to consider when delivering your live event online or content to a virtual audience?
RV: A good oral presenter does not translate to a good webinar presenter. There are 5 key factors to consider when doing a webinar:
Effective Presentation/format

Understanding your Platform

Engaging your Audience

Effective Promotions/ Advertising

Follow-up
How do you compare a DIY webinar platform to a full service platform?
RV: I think each platform has a different purpose. DIY platforms can be helpful if you have a limited budget and are reasonably tech savvy. However they are not very user friendly when you are doing education pieces that require post-tests and certificates. DIY platforms allow minimal customization and usually provide very limited technical support too. The full service platforms pretty much can cater to whatever you need.
How would you advise a marketer looking to create more 'sharable' content? Are there specific strategies or tools you recommend?
RV: Shared content should be made accessible to attendees. The easiest way I have found is to upload it to my website and give the attendees a link. Other options for sharing include LinkedIn and Twitter. In both cases the link should link back to your website.
Learn more from Ruwaida on her upcoming webinar,