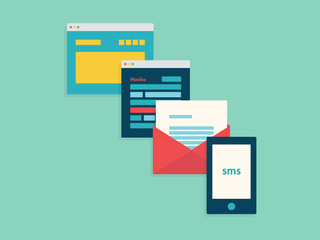 Webinars can be a very effective tool for moving prospects along in the sales funnel. It's no wonder that 59% of all marketers are using virtual events in their B2B marketing strategies (Content Marketing Institute). But, the content and the way you approach your prospects affects the customer experience, impacting the quality of the leads you generate. Here are seven factors to keep in mind while crafting your webinar's marketing campaign.
Email marketing on average provides the highest ROI. Make sure you are doing it right by always providing a benefit to the reader and writing short captivating subject lines to increase open rates.
1/3 of all website traffic is coming from mobile. One way to optimize your emails for mobile is by aligning important information and Call-To-Action's to the left side of the email so they come up first.
Only 25% of Email marketers have used video in Email. Video sparks the interest of people tremendously. Try using videos in your emails by including a screenshot of your video and placing a link on the image so users can click on the image and be redirected to the page where your video is hosted (could be your website or YouTube).
Not all leads are the same. Your Marketing Campaign should have a purpose. Identify where your leads are in the process of buying and place them in the correct campaign. For example: a new lead gets placed into the "welcome campaign" until they reach your goal (request a demo or schedule a phone call). Then transfer them to the next campaign, such as the "engaged prospect" and so on.
65% of current customers that leave to do business with another company is because of indifference. Your job doesn't end when a prospect becomes a customer. That is just the beginning of a whole new campaign where you continue to nurture them, upsell and gain referrals.
It takes (on average) about 7 contacts with a client before they feel comfortable to make business. Don't lose leads just because they weren't ready to engage when you approached them. Stay on their radar until they feel ready to become a serious prospect by continuing to include them in your marketing efforts.
Offer benefits. Offer benefits. And offer benefits. This can't be stressed enough. The only way you're going to capture a lead through your website is by offering content, such as white papers, that interests them enough to provide their contact information to download.