For legal marketers, retaining customers isn't always the easiest task. In this industry, it's common for law firms to lose clients – not because they had bad experiences, but because there is no longer a need for the services. A divorce lawyer may only see a client once, so why focus on retaining customers? There is actually significant value in holding onto clients in the legal marketing realm. According to a study conducted by Bain and Company, a 5% increase in customer retention can increase profits by 25% to 125%. In short, there's much more good than bad in ensuring that your customers stick around. This is often easier said than done, so here are 5 helpful tips for legal marketers to better retain their customers: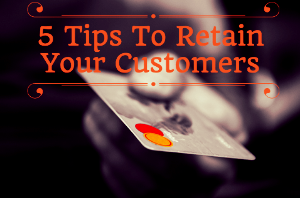 Know Your Buyer's Persona
Before you can retain clients, you need to really know who your clients are. This is where creating a buyer persona comes into play. This means creating a representation of your ideal customer based on market research and real data about your existing customers, including customer demographics, behavior patterns, motivations, and goals. Understand who you're marketing to, what their needs are, and what they'd respond well to. This is the foundation for client retention and growth and is the most efficient use of your time and money.
Be Personal
According to The Content Marketing Institute, 71% of marketers personalize their content. This large percentage indicates that they must be doing something right. After becoming comfortable with your buyer's persona, you can personalize the way you market to the customer. People want to feel like they're experiencing real human interactions rather than automated responses and seemingly robotic social media posts. Often times blogging, producing engaging social media, and hosting webinars remedy this common dilemma: the lack of personalization. Show your customers your firm's personality and they're bound to react positively.
Keep Customers Happy
This goes without saying, but keeping customers happy should be up there on your list of top priorities. Sometimes you have to think outside the box in order to truly satisfy your clients. For instance, you should consider the fact that your customers most likely will not enjoy bland, unengaging email after bland, unengaging email. Keep your marketing enticing and surprising and make sure you have a strategy in place that is on point with your customers' wants, needs, and expectations.
Blog Regularly
Blogging can really do wonders for your company. It can boost SEO, draw in new customers, and keep existing ones interested. Your blogs don't always have to be about your company, but they should always be relevant to your industry. Showing that you're aware of and up-to-date on changes and trends in the legal world is extremely important. Keep your customers filled in without bombarding them; blogging at least 3 times a week is a healthy practice. HubSpot reports that 46% of people read blogs every day, so make sure that your clients are reading yours daily.
Utilize Virtual Events
Virtual events are one of the best ways to retain customers as well as gain new ones. Webinars put a face to the company and allow people to further their education on a subject they're not the most familiar with. Thus, it makes sense that 62% of marketers use webinars. They keep people engaged and also educate them about your company and industry while generating conversation.
While retaining customers in legal marketing can be difficult, it is definitely not impossible. The key is to show your clients that you're not just another law firm, but a great source of information and a hub where their questions can be answered. That said, you'll surely be able to retain and grow your customer base with ease after following these crucial yet simple tips.
Now that you learned these tips and successful ways of retaining customers, make sure you don't make these 5 common mistakes!