The 40th Annual Alliance for Continuing Education in the Health Professions Conference (ACEhp) took place last week, January 14-17 in Grapevine, Texas. The event was a great success for all, resulting in a significant increase in the number of attendance and exhibits from last year.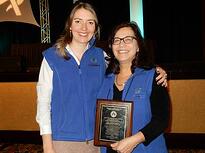 One of our favorite moments from the ACEhp conference was the award ceremony recognizing the Physicians' Institute for Excellence in Medicine, a current BeaconLive customer, for 'Best Collaboration of 2015'. BeaconLive is pleased to have played a part in this achievement by providing webinar/webcast services for the program Grantee's - 15 State Medical Societies.
Congratulations Physicians' Institute! We look forward to continuing our partnership in the Continuing Education field.
Furthermore, the BeaconLive Annual Customer Appreciation Dinner was hosted the night before the event, giving us a chance to reconnect with old friends and current customers. A few pictures from our celebration can be seen below.
We are headed to San Diego next for ACLEA's 51st Mid-Year Meeting on January 31. Let us know via LinkedIn if you are available (and in the area) on Jan. 31 - Feb. 3 to meet with our team. Stay in touch!