Growing your business requires growing your network; so, it's no surprise that LinkedIn has blossomed into such an integral business tool. However, the key to networking is going beyond LinkedIn and understanding that there's much more value to be extracted elsewhere. So, how can you reach a large number of people and interact effectively in pursuit of bettering your business? In a word: Webinars.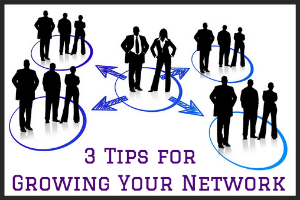 Averaging 54 live attendees at a time, according to e3Marketing, webinars allow you to reach people all around the world simultaneously, which means greater exposure and, inevitably, brand recognition. So, how exactly should you use them to connect with larger audiences and grow your network? The following three tips for growing your network is an excellent place to start.
1. Take Advantage of OnDemand
It's crucial to keep in mind that, although you may be able to attract a large live audience, you should be making your content readily available to viewers after-the-fact, 24/7. It's notably useful to complete the lifecycle of your live event with the OnDemand feature. It's been found that there is typically a 26% increase in views when clients have access to OnDemand. Clearly, more views mean greater networking potential especially since OnDemand allows people to easily share video links across social media, and more. Because you can require viewers to enter their contact information before accessing your OnDemand event, you then have a way of following up with your viewers via Email to invite them to upcoming webinars, suggest related blog posts, and add them to your nurturing campaign.
2. Be a Resource
If people respond well to the information you're delivering, it is very likely that they will want to stay connected with you. Use webinars to deliver valuable information that will help you establish your company as a trustworthy source and prompt viewers to offer their reviews of your service. According to Opinion Research Corp, 83% of consumers have stated that online reviews greatly influence the perception of a company. When people view your company's information as valuable, it is probable that they will not only add you to their network and continue to follow you, but also share your information to other people in their network who will then see you as a reliable source as well.
3. Create a Way to Connect
Growing your network takes more than merely reaching out via Email; it depends on whether your audience is reaching out to you. You need to provide several options for people to find you and connect. For example, let's say one of your connections shares a link with their network, then, ten people within that network watch using OnDemand. Afterward, they want to connect on social media with your company to stay up-to-date with industry news. If your company doesn't have a social media presence, you will lose potential connections. It's essential that you create social media accounts and blogs to gain and retain connections. HubSpot, for example, found that 43% of all marketers have gained customers via LinkedIn.
These events are an excellent method for reaching large audiences while simultaneously developing a solid reputation as an industry leader. Sharing quality information will set you apart and position your company as a trusted source, allowing you to then expand your network. With a greater network, you are sure to see increases in viewership, lead conversion and sales. Utilize everything they have to offer and the level of improvement in your business' status will astound you.
---