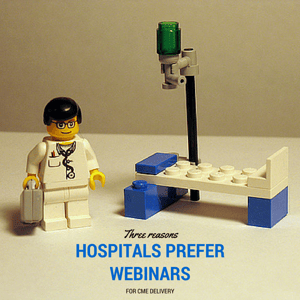 In the healthcare industry, utilizing modern forms of technology – such as hosting webinars – helps to continuously optimize the execution of care and streamline processes that support and enable efficient care delivery. Communicating via webinars can also break down collaboration barriers, thus aiding in the growth of clinical discovery. Here, we'll discuss 3 key reasons why healthcare webinars are so useful and why hospitals prefer webinars for CME delivery.
1. Branding
92% of consumers trust brand recommendations from friends and family and 70% of consumers trust opinions of brands posted online by other consumers (Seroka). When webinars are effectively branded with your healthcare institution's logo, colors, slogan, and tone, this aids the organization more so than you may think. Offering educational material or holding professional meetings should accurately reflect your brand. With full-service webinar platforms, every piece of the event includes branding. Even the webinar registration page is branded and appears as an extension of your website, which is very helpful for attracting your audience. In addition, when you utilize these fully customizable registration services, you can take advantage of branded email confirmations, reminders, handout distribution, and full e-commerce registration capabilities for your registrants.
2. Full-Service Opportunities
Using a full-service provider makes sense for most healthcare organizations. This is especially true in that, with a full-service webinar platform, busy medical professionals have less work to do when it comes to training or even conducting day-to-day meetings or conferences. A full-service team – that includes experts in healthcare marketing – will essentially do all of the work so the medical professionals don't have to. It's no wonder why 59% of all marketers are using webinars in their B2B marketing strategies (Content Marketing Institute). Plus, this method is easy and won't take healthcare professionals a long time to learn. Full-service platforms also boast detailed reporting capabilities, another huge benefit for healthcare institutions that value continuous analysis and improvement.
3. Mobility
One of the most important reasons to use webinars is their ability to reach a large audience over a wide geographic area – not to mention this method is cost-effective and requires less travel than educating on-site. This is very much the case in the healthcare realm. Every person who works in the medical field is frequently on their feet and pressed for time. These mobile individuals need mobile access when it comes to webinars. Health professionals can attend virtual events from anywhere they can access the Internet, including mobile devices. A study of the healthcare industry last year showed 86% of healthcare providers used smartphones in their practice and 53% of providers used tablets in 2013, an astonishing increase of 34% from 2012 (Groove Digital Marketing). This level of accessibility is crucial in this industry and helps expand an organization's reach. Averaging 54 live attendees at a time, according to e3Marketing, webinars allow you to reach people all around the world simultaneously, which means greater exposure and, inevitably, brand recognition.
The healthcare industry needs webinars today, and for a number of reasons. Webinars are the easiest way for these highly mobile individuals to gain the necessary credits in a timely and rather simple manner. The ability to brand your webinars may seem like a minor detail, but it's actually very important when it comes to effective healthcare marketing. Healthcare organizations will be able to remain cutting-edge and pride themselves on their exceptionally well-trained staff if webinars are in the picture.
---