Ok, perhaps saying skydiving is EXACTLY like delivering a webinar is slightly exaggerated, but stick with us for a bit and we'll explain exactly why and how skydiving and webinar delivery are the same.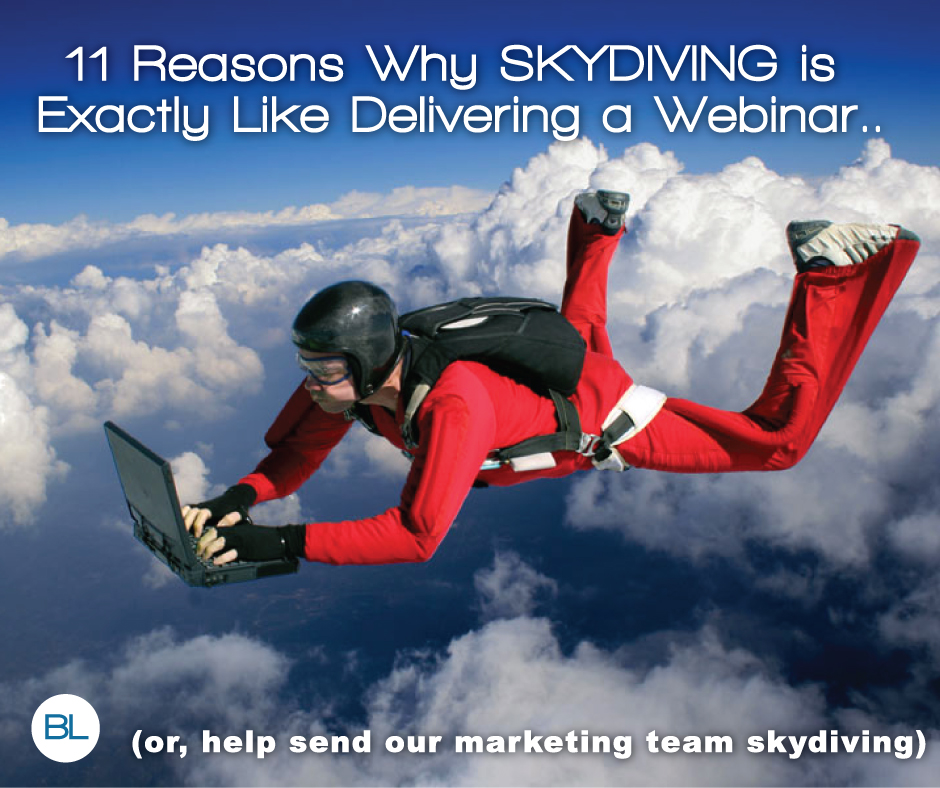 But first, an introduction…
Hi, this is Shelley and Leidy, and we make up the marketing department at the fully managed virtual events provider, BeaconLive. Recently, we attended an awesome conference where we learned how to leverage our content to help our customers and prospects deliver awesome webinars. Just prior to the keynote, we were sharing ideas from the day before while multitasking on Instagram and Twitter –like all marketers. This was when we found a friend's blog about their adventure in skydiving, and we learned that jumping out of a plane was on both of our bucket lists. Together, we pondered, how can we get BeaconLive to send us skydiving, while getting the word out about how webinars are awesome?
And then we came up with a blog idea, Delivering a webinar is JUST like going skydiving. They're both stressful and scary, but the end result always is (or should be) a wonderful feeling of accomplishment. We went on to compare different elements. Check them out:
The first, most important factor in skydiving (as well as in webinar delivery) is checking the vendor's reputation. Ask for testimonials and references. What are their contingency plans in case of bad weather or an Internet outage?

All reputable companies have backup plans and should share them with you. Make sure they have a flawless reputation.

I mean - does this require any more explanation?

We didn't think so.


When considering the idea of jumping out of a plane, or risking your company's reputation, you have a million questions running through your head – but, how do you ask the experts without looking like a complete novice?

Well, we guarantee you; we've heard it all before.

Someone once asked, 'what happens if no one registers for my event?'.

Similarly, a skydiving instructor is there to guide you, lower risk, and put your mind at ease. Without a webinar expert (or a skydiving instructor) you wouldn't dare take the plunge on your own.


Choose the method of your first jump. Did you know there are 7 different types of webinars you can deliver? [Read about them here] Do the research before you determine which format works best for YOUR content. But as far as skydiving goes, we're told most people opt for the tandem jump – meaning they are attached to an instructor the entire time. Similarly, delivering a webinar is more successful and less intimidating when you have an Event Moderator working with you every step of the way as you deliver your content. This way, your dedicated professional can handle the technical details of the webinar / skydive while you enjoy the ride.


Another type of jump is the AFF (Accelerated Free Fall) – this is where you have an experienced instructor assist you with exiting the plane, while another instructor (via radio) assists you with proper body positioning.

Because you are technically jumping alone, there is more risk and more hours of training involved (the AFF jump requires 5-6 hours of training). Similarly, DIY webinars are higher risk and more time-consuming – that's why we're not big fans of them (though we do offer it). We steer our customers away from risk but understand they have preferences, and support them by offering more than 5-6 hours of useful content (webinars, blogs, infographics, etc.) to help them "land safely".


According to our research, the next step is about preparing for the jump.

While we're packing our weather appropriate clothing and sneakers, you should prepare for your webinar by creating a marketing plan on how to promote your webinar (here's an helpful guide: blog link for infographic 'promoting your webinar')

Is your adrenaline pumping yet?

Ours is!


Step 6 is to get familiar with the jump instructor.

Similarly, you should meet with your event producer or event moderator to do a tech run. Test those parachutes (I mean, slide decks), learn the platform, and test your audio output.


Pay Attention – its almost time! Our skydiving research suggests getting a briefing and meeting with your instructor.

At BeaconLive, we suggest you join the webinar a half hour early before going live for a final run-through of the platform and a sound/tech check.


Board the plane and soak it all in. You're about to deliver a professional virtual event to an audience scattered around the world. This wasn't possible 50 years ago, heck, it wasn't possible 20 years ago. Now would be a good time to get clipped into that harness (or turn off your cellphone).


Exit the plane.

Guess what? You have control of the audience. You have the power to teach them, engage with them, or bore them to sleep.

Use your time wisely.

Enjoy being a content expert and fly (ok, we needed to throw a cheesy line in there somewhere).


Land Safely.

One of the best parts about delivering a fully managed event is that you don't have to be an expert in webinar delivery; you just have to be a content matter expert and trust that BeaconLive's professional and dedicated team can facilitate an excellent experience.


Brag about your amazing experience.

You just delivered a flawless, professional webinar to an audience around the world.

Tell your boss about your accomplishment, tell your mom, and post a picture of how you webinar on your social network pages (dont forget to tag us @beaconlive).

Congratulations. About this point, we'll be planning our next jump… you'll probably be thinking of all the other webinars you can deliver in the future.

The skies the limit.
So, what do you think? Was our thrilling list what you expected? Now we have a special request for you to help us accomplish our dream. Comment below! Like and Share it on social media. Or link back to the blog on your website, and we will propose to the owners of BeaconLive that if we get 500 (!!!) shares, likes or links back to this blog, they should send us up into the sky, only to jump out. So, from one marketing department to your desk, can you help us??
Are you interested in learning more about the adventerous journey of webinar delivery? Check out our blog!