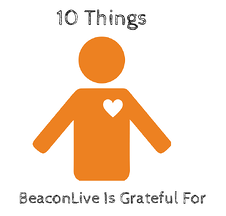 This year we had our first "Beacon's-Giving Potluck Lunch" at the office to celebrate everything we have accomplished as a team. However, as a technology company it may not come as a surprise that most of our team was not actually physically present –due to the majority of our team consisting of remote employees who stay in touch virtually.
The good thing about this is that we don't have to limit our talent pool to a geographical location nor ask employees to uproot their families to our headquarters.
But on the other hand, we would've loved to have been able to exchange recipes and holiday ideas with our fellow (remote) team members. So for everyone who supports the BeaconLive mission, here are 10 things BeaconLive is grateful for this year:
Our team. Many of us have never even met face to face before, and yet we work seamlessly together like this is how it's been done since the beginning of time! Not many companies can say that about their employees working in the same building, let alone the same department.
Our customers – for trusting us everyday to uphold their company's reputation. We don't take your trust for granted.

The yogibo in our office. If you don't know what those are look it up right now and put it on your Christmas list. It can turn any corner of your office into a comfortable work space.
Our blog. Strangely, we're really glad blogs exist! They allow us to connect with our clients, provide industry advice, and get others in the company involved through writing. You could say its almost therapeutic.
Our office dog, Bentley. He always brings a smile to our faces and meets every deadline.
Our webinar speakers. They do such a great job in helping us share new information with our audience for free.

Our new website

. Isn't it great? We've received a lot of positive feedback and that makes the marketing department really happy.
Our new location. Moving is always stressful but our team made it work and the new office layout works great for us!
Our partnerships. We've been working a lot with other vendors, consultants, and organizations to bring the BeaconLive experience to various locations and every new partnership has resulted in a new friendship.
The upcoming year. We have a lot of new updates and exciting webinar opportunities rolling out in 2015 and we can't wait to share them with you!
We hope you have a Happy Thanksgiving surrounded by friends and family!